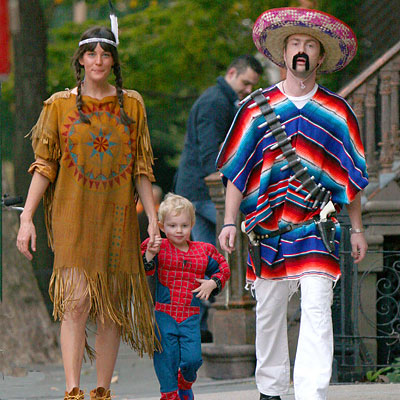 Royston Langdon with wife Liv Tyler and son Milo last Halloween in NYC.
Velvet Revolver has been looking for a new frontman since dismissing Scott Weiland back in April.
Rumored candidates have included ex-Skid Row singer Sebastian Bach, former MTV VJ Steve Isaacs and ex-Spacehog vocalist Royston Langdon, who has apparently had several successful rehearsal sessions with the band.
Speaking to the Artisan News Service on July 23, 2008 at a fashion event in Los Angeles, drummer Matt Sorum stated about the group's lead singer search, "We got a call from a pretty big guy who wants to be our singer. I can't say who that is yet but talks are happening about it and hopefully we'll see what happens in the next couple of months."
Asked about the possibility of Sebastian Bach joining VR, Sorum said, "No. No, it's a lot cooler than that but I don't know if it's going to happen so I can't say. It's cool that people are calling us and wanting to get in the band, so that's exciting."
Langdon performed last month with Slash's Blues Ball at a charity event in Las Vegas.
You can watch the video below.
Blabbermouth